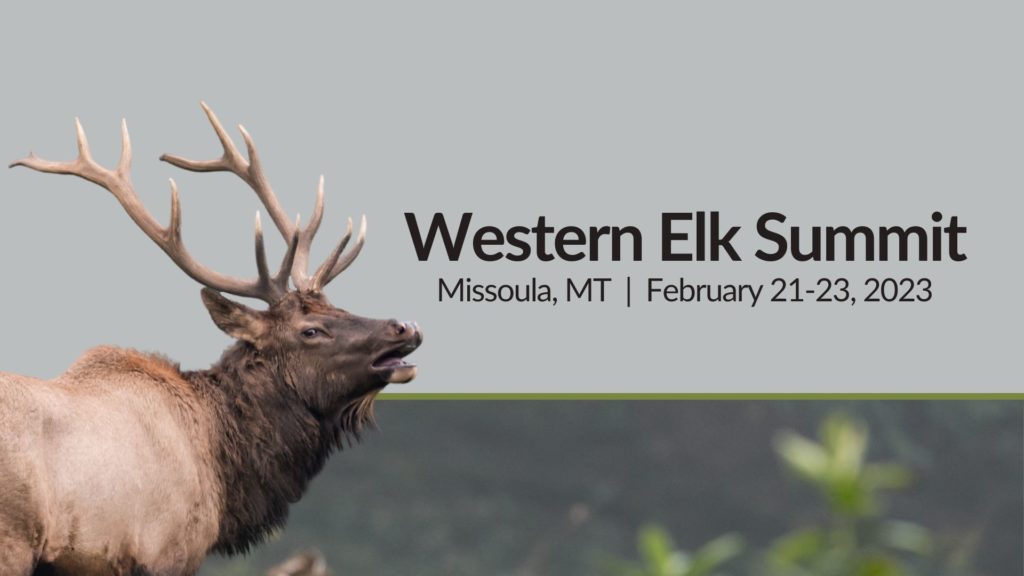 This event was an invitation-only summit to allow for Western Association of Fish and Wildlife Agencies' (WAFWA) leadership and leading elk managers to share challenges and triumphs that are uniquely relevant to managing western elk. As a species, elk have taken on new management needs and challenges in recent years for many states. Elk ecology still forms the foundation of our management programs and human wildlife conflicts, disease, and a diversity of human values relevant to elk pose new questions to be considered. WAFWA has worked very closely with leadership, deer and elk biologists, and Rocky Mountain Elk Foundation to identify topics that are most pressing towards wildlife agencies' needs and interests. The Western Elk Summit is hosted by WAFWA at the newly-renovated Elk Country Visitor Center at the Rocky Mountain Elk Foundation headquarters in Missoula, Montana
---
Summit Details & Agenda
This summit is by invitation only.
Schedule Overview
Tuesday, February 21, 2023:
Evening meet and greet reception 6pm at the Elk Country Visitor Center.

Wednesday, February 22, 2023:
Full day of meetings with a catered lunch.
Dinner walking distance from the hotel and meeting location.

Thursday, February 23, 2023:
Morning meetings finishing by noon.
Box lunch to take with you as you head home.
---
Meeting Location
Elk Country Visitor Center at Rocky Mountain Elk Foundation's headquarters 5705 Grant Creek Road, Missoula, Montana.
---
Hotel & Travel
C'mon Inn Hotel
2775 Expo Parkway
Missoula, MT
Hotel is 1/2 mile from RMEF Headquarters. WAFWA has a room block set aside for this group at $99/night. Call 888-989-5569 and mention "WAFWA Elk" room block for this rate.
Plan to arrive on February 21 by 5pm MT. The meeting will wrap up by noon on Thursday, February 23, and participants will be departing to head to the airport at that time. You will be able to eat lunch onsite or take it with you on the road.
---
Registration
Participant registration is $300 per person if registered by February 1, 2023. After February 1, 2023, the registration rate is $350.
Please register by February 10, so we can have a head count for planning purposes.
This rate includes the hors d'oeuvres reception on Tuesday, full lunch, and dinner on Wednesday, and boxed lunch on Thursday. Breakfast is included with your rate at the C'mon Inn Hotel.
---
Point of Contact: If you have any issues with getting a hotel room reserved or with registration, please contact Cortney (cortney.mycroft@wafwa.org).