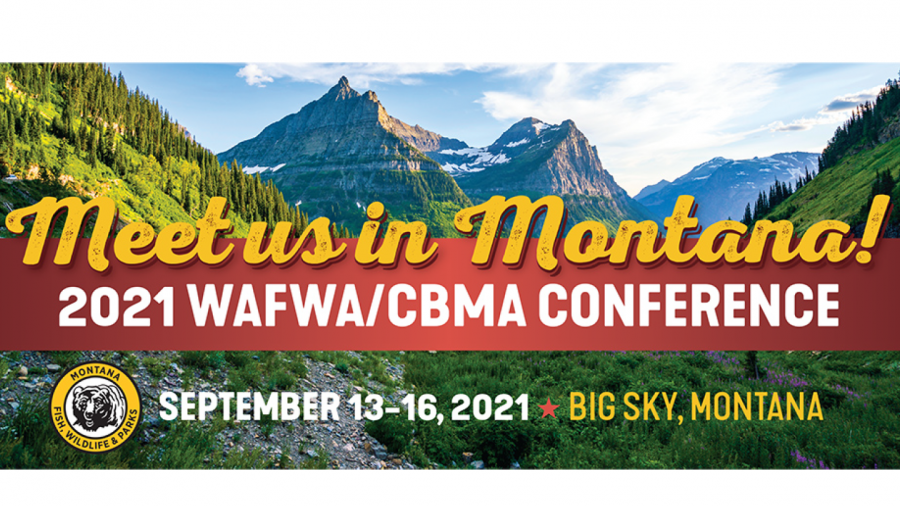 September 13, 2021 - September 16, 2021
Big Sky, Montana
CELEBRATING 60 YEARS OF ACHIEVEMENTS!
WAFWA – Administrative Officers Workshop (AOW) and CBMA Joint Conference
The Fish and Wildlife Administrative Officers from the Western Association of Fish & Wildlife Agencies (WAFWA) and the Conservation Business Managers Association (CBMA) throughout the United States and Canada are dedicated to raising the standards and establishing best practices in support of promoting a broader understanding and acceptance of the value of business management as a tool of natural resource management.
This annual conference is an opportunity for State Fish and Wildlife Agency Administrative Staff to interact with their peers from other agencies throughout the United States and Canada. Administrative staff represent the heads of Procurement, Licensing, Information Technology, Human Resources, Finance and Budget. The first workshop was hosted by WAFWA in 1961, view the WAFWA AOW objectives and membership (PDF, 99 KB). The first joint WAFWA AOW and CBMA conference was held in 2002. View the Host, Co-Host Responsiblities (PDF, 134 KB).
---
2021 WAFWA/CBMA Conference
Keynote Presentations
Us versus Them: Generational Differences in the Workplace
Generational differences in the workplace is something we all see and navigate. This hysterical and informative keynote presented by Jeff Havens will show us all a simpler way to look at our own generational picture, and learn how to understand, recognize, and resolve generational issues facing today's workforce.
Grizzly Bear Behavior, Ecology, and the Conservation of Wild Bears
Casey Anderson is an Emmy nominated filmmaker, an adventurer and explorer. He has spent the last three decades traveling the world, capturing nature and wildlife through the camera lens. Casey has been seen on Nat Geo WILD, BBC, PBS, Travel Channel, and the Discovery Channel. He has made it his mission to bring his love of the wild to the hearts of the world, instilling a drive to conserve untamed and untouched wild places.
Breakout Presentations & Activities
Montana Raptors Live Raptor Program
• • •
Opening Night Reception
Presentation Forthcoming
• • •
Chuck Wagon BBQ at 320 Guest Ranch
The Archeology of Montana's State Parks
• • •
Hospitality Suite
View our Promotional Brochure (PDF, 395 KB)
Come Early, Stay Late!
Montana has a TON to offer in the way of recreation! Arrive early or stay after the conference and explore! The West Yellowstone entrance of Yellowstone National Park is an hour away from Big Sky Resort; hike Big Sky; explore dinosaurs at Museum of the Rockies in Bozeman, etc.! View our brochure below and check out Visitmt.com for more information! Your Montana WAFWA team is happy to provide suggestions! BROCHURE – Explore Big Sky (PDF, 6 MB)
---
JOIN US AS A SPONSOR!
Gain exposure to fish & wildlife professionals, networking opportunities, exchange information and ideas, and learn about the challenges your customer agencies are facing.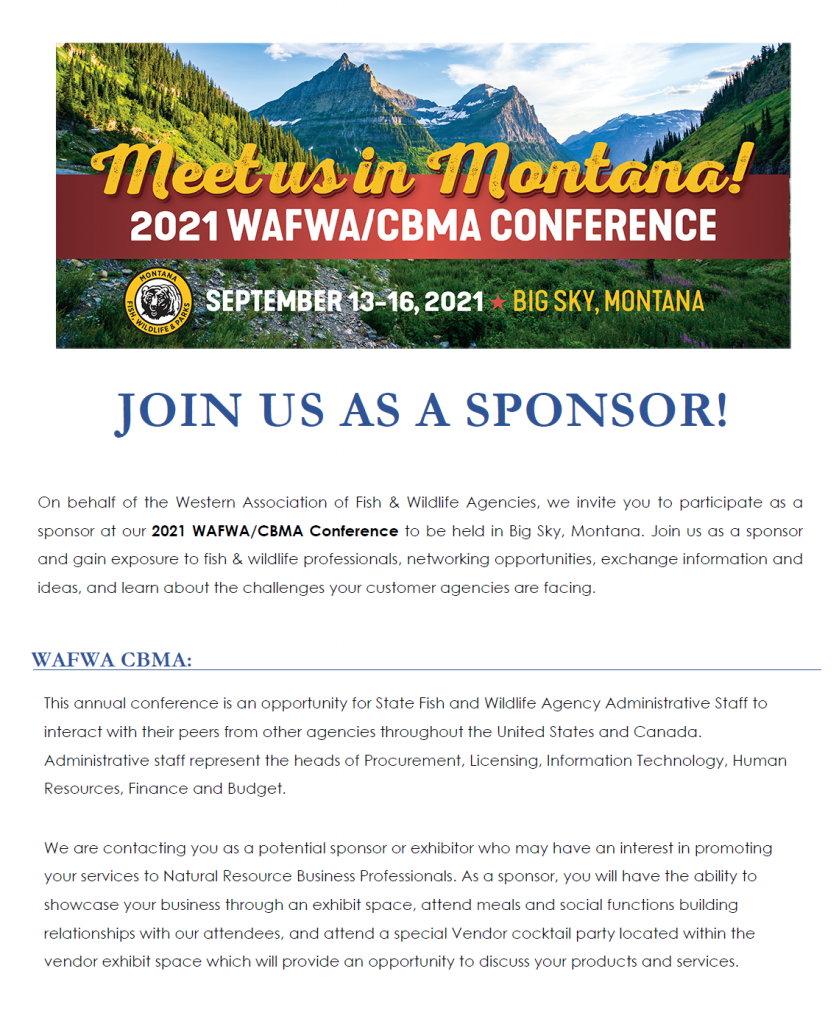 Your sponsorship of the WAFWA/CBMA Conference would assist us in hosting a world-class event and demonstrate your organization's commitment to wildlife conservation. In exchange, your organization will have the valuable opportunity to make face-to-face CONNECTIONS with hundreds of fish and wildlife professionals; you'll have ACCESS to people who need your products and services; and the EXPOSURE will reinforce your brand awareness and maximize visibility in the wildlife community.
As a sponsor or exhibitor promoting your services to Natural Resource Business Professionals, you will have the ability to showcase your business through an exhibit space, attend meals and social functions building relationships with our attendees, and attend a special Vendor cocktail party located within the vendor exhibit space which will provide an opportunity to discuss your products and services. Please review the Sponsorship Brochure (PDF, 615 KB) and sign up today to support the WAFWA/CBMA Conference.
SPONSORSHIP OPPORTUNITIES
Pricing & Benefits
Diamond
$15,000
Platinum
$10,000
Gold
$6,000
Silver
$4,000
Bronze
$2,000
Host/Co-host of Wednesday Banquet
●
Host/Co-host of Monday or Wednesday Cocktail Reception OR Tuesday or Wednesday Attendee Lunch
●
Special Mention During Sponsored Event
5-10 min.
Presentation
Company Banner Displayed at Hosted Event
●
●
Logo Recognition on Conference Website with Link
●
●
●
Logo Only, No link
Logo Only, No link
Logo on Conference Signage
●
●
●
●
●
Ad in Conference Program or App
Full Page
Full Page
Half Page
Quarter Page
Directory Listing in Conference Program
●
●
●
●
●
Exhibit Space
●
●
●
●
●
Complimentary Registration(s)
5 Attendees
4 Attendees
3 Attendees
2 Attendees
1 Attendee
Conference Folio Inserts
(brochure, gifts, etc.)
●
If you would like to participate as a Sponsor, please click here to register.
ADDITIONAL SPONSORSHIP OPPORTUNITIES:
Conference Gift Bag ($6,000)
Copper Mug ($3,500; Mugs will feature sponsor logo and WAFWA 2021 and be made available at the 320 Guest Ranch served with a "Montana Mule" featured drink.
Tuesday Chuck Wagon BBQ ($1,500; multiple sponsor opportunities)
Hospitality Suite ($1,500; Monday, Tuesday & Wednesday evenings – one night per sponsor)
Closing Speaker ($1,500; Includes opportunity to welcome/introduce the closing speaker)
Web Access for Conference Attendees ($1,500)
Refreshment Breaks ($1,500)
Audio-visual Support ($1,500)
Bus Transportation ($1,500)
Recognition will include: Logo on conference website, signage and program
UNABLE TO ATTEND, BUT WISH TO ADVERTISE:
Include a notepad in the conference folio ($1,500)
Include a pen in the conference folio ($1,000)
Include your business card or flyer in the conference folio ($500)
Provide a door prize donation! All donors will receive recognition in the conference program and during the prize drawing.
---
Members
WAFWA Members
Alaska Department of Fish and Game
Alberta Fish and Wildlife Division
Arizona Game and Fish Department
British Columbia Ministry of Forest Lands and Natural Resources Operations
California Department of Fish and Game
Colorado Division of Parks and Wildlife
Hawaii Division of Forestry and Wildlife
Idaho Department of Fish and Game
Kansas Department of Wildlife, Parks and Tourism
Montana Fish, Wildlife and Parks
Nebraska Game and Parks Commission
Nevada Department of Wildlife
New Mexico Department of Game and Fish
North Dakota Game & Fish Department
Oklahoma Dept. of Wildlife Conservation
Oregon Department of Fish and Wildlife
South Dakota Game, Fish & Parks
Texas Parks & Wildlife Department
Utah Department of Natural Resources
Washington Department of Fish & Wildlife
Wyoming Game and Fish Department
Yukon Department of Environment
CBMA Members
Alabama Department of Conservation & Natural Resources
Arkansas Game and Fish Commission
Illinois Department of Natural Resources
Indiana Department of Natural Resources
Iowa Department of Natural Resources
Kansas Department of Wildlife, Parks and Tourism
Louisiana Department of Wildlife and Fisheries
Michigan Department of Natural Resources
Minnesota Department of Natural Resources
Missouri Department of Conservation
Nebraska Game and Parks Commission
New Hampshire Fish and Game Department
North Dakota Game & Fish Department
Ohio Department of Natural Resources
Pennsylvania Game Commission
South Dakota Game, Fish & Parks
Tennessee Wildlife Resources Agency
Wisconsin Department of Natural Resources
Rotation Schedule For Hosting the Conference
The WAFWA / CBMA Joint Workshop is a annual meeting held in odd numbered years sanctioned by WAFWA to accomplish this common goal by providing a forum for members to discuss current issues, exchange ideas and information through study, education, research and cooperative communication.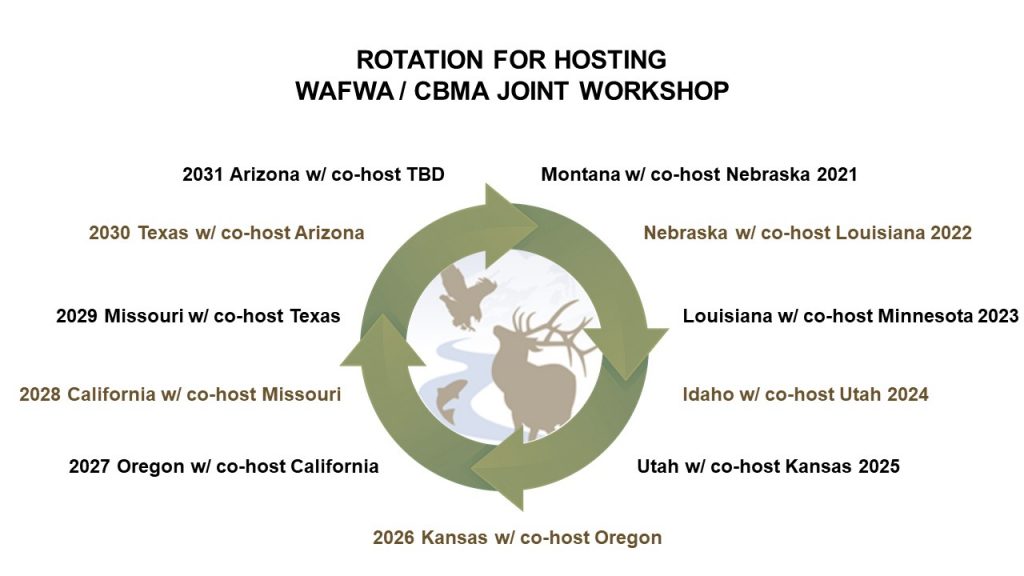 Past Conferences
Workshop Proceedings