A WAFWA Sanctioned Workshop
The Fish and Wildlife Administrative Officers from the Western Association of Fish & Wildlife Agencies (WAFWA) and the Conservation Business Managers Association (CBMA) throughout the United States and Canada are dedicated to raising the standards and establishing best practices in support of promoting a broader understanding and acceptance of the value of business management as a tool of natural resource management.
The WAFWA / CBMA Joint Workshop is a annual meeting held in odd numbered years sanctioned by WAFWA to accomplish this common goal by providing a forum for members to discuss current issues, exchange ideas and information through study, education, research and cooperative communication.
CELEBRATING 60 YEARS OF ACHIEVEMENTS!
WAFWA – Administrative Officers Workshop (AOW) and CBMA Joint Conference
The conference provides a forum for business managers from Fish and Wildlife organizations to discuss current issues and exchange ideas. Committees include: Accounting and Auditing, Administration and Budget, Human Resources, Information Technology, Licensing, Procurement, and Marketing. The first workshop was hosted by WAFWA in 1961, view the WAFWA AOW objectives and membership (PDF, 99 KB). The first joint WAFWA AOW and CBMA conference was held in 2002. View the Host, Co-Host Responsiblities (PDF, 134 KB).
Members
WAFWA Members
Alaska Department of Fish and Game
Alberta Fish and Wildlife Division
Arizona Game and Fish Department
British Columbia Ministry of Forest Lands and Natural Resources Operations
California Department of Fish and Game
Colorado Division of Parks and Wildlife
Hawaii Division of Forestry and Wildlife
Idaho Department of Fish and Game
Kansas Department of Wildlife, Parks and Tourism
Montana Fish, Wildlife and Parks
Nebraska Game and Parks Commission
Nevada Department of Wildlife
New Mexico Department of Game and Fish
North Dakota Game & Fish Department
Oklahoma Dept. of Wildlife Conservation
Oregon Department of Fish and Wildlife
South Dakota Game, Fish & Parks
Texas Parks & Wildlife Department
Utah Department of Natural Resources
Washington Department of Fish & Wildlife
Wyoming Game and Fish Department
Yukon Department of Environment
CBMA Members
Alabama Department of Conservation & Natural Resources
Arkansas Game and Fish Commission
Illinois Department of Natural Resources
Indiana Department of Natural Resources
Iowa Department of Natural Resources
Kansas Department of Wildlife, Parks and Tourism
Louisiana Department of Natural Resources
Michigan Department of Natural Resources
Minnesota Department of Natural Resources
Missouri Department of Conservation
Nebraska Game and Parks Commission
New Hampshire Fish and Game Department
North Dakota Game & Fish Department
Ohio Department of Natural Resources
Pennsylvania Game Commission
South Dakota Game, Fish & Parks
Tennessee Wildlife Resources Agency
Wisconsin Department of Natural Resources
Rotation Schedule For Hosting the Conference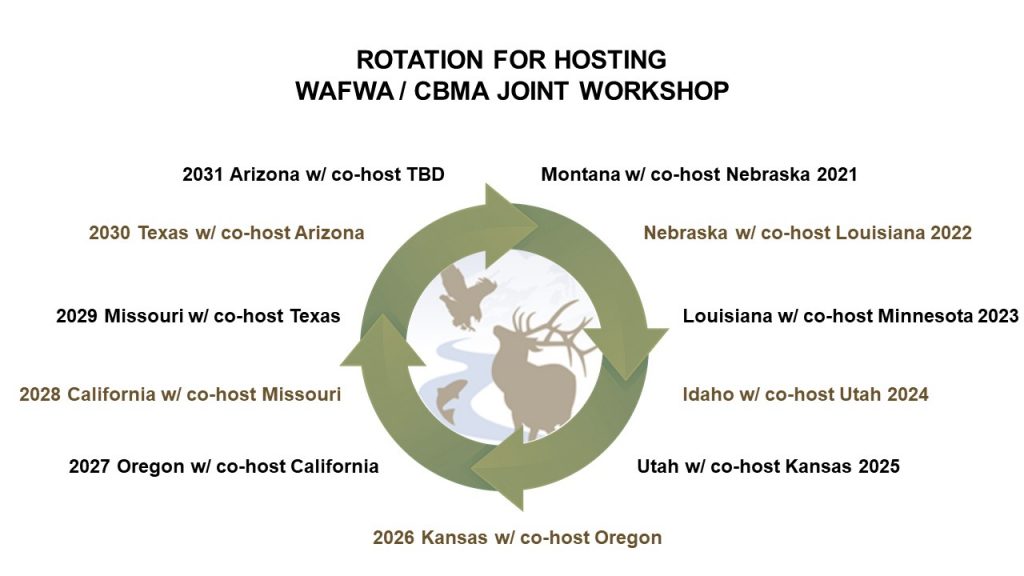 Workshop Proceedings