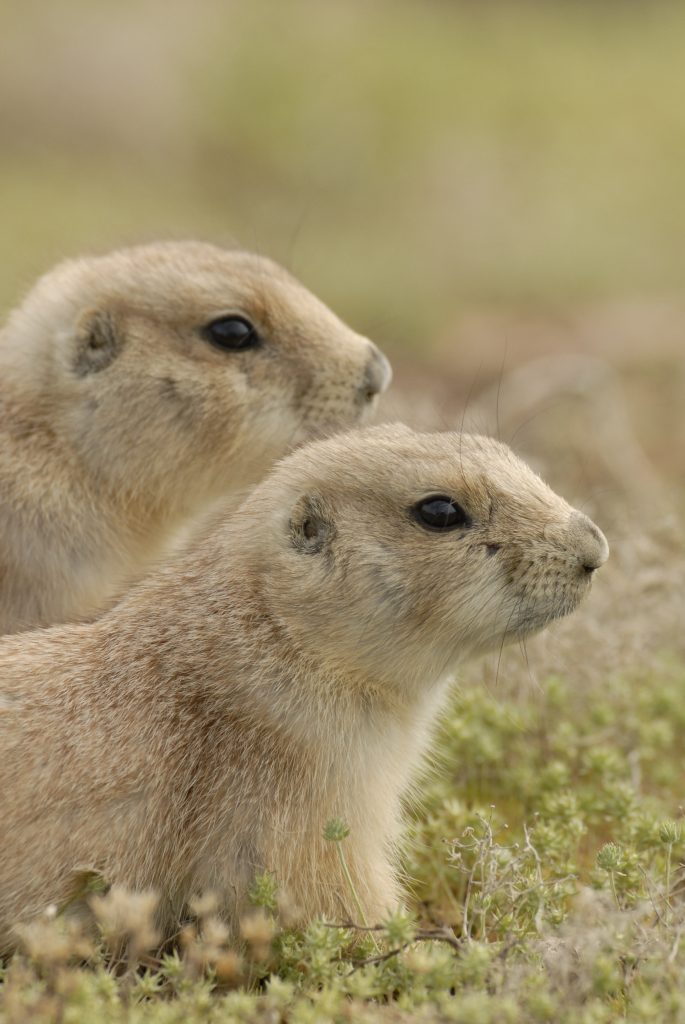 WESTERN GRASSLAND SPECIES:
Black-Tailed Prairie Dog (Cynomys ludovicianus)

White-Tailed Prairie Dog (Cynomys leucurus)

Gunnison's Prairie Dog (Cynomys gunnisoni)

Utah Prairie Dog (Cynomys parvidens)
Photo Credit – Craig Bihrle
Background
1998. Several non-governmental organizations petitioned the U.S. Fish and Wildlife Service (USFWS) requesting that the black-tailed prairie dog (BTPD; Cynomys ludovicianus) be listed as a threatened species under the Endangered Species Act. That same year, 9 of 11 States that were within the historical range of BTPD began conservation efforts by forming the Interstate Black-tailed Prairie Dog Conservation Team (BTPDCT).
1999. A conservation plan was finalized that established conservation objectives for the species, which included establishing a conservation team, drafting State specific management plans, the identification of focus areas for conservation, and a commitment to monitor the BTPD population.
2000. The USFWS issued a finding of "warranted but precluded" and the States continued to work on conservation measures.
2002. With the filing of the white-tailed prairie dog petition, the Black-tailed Prairie Dog Conservation Team was expanded to all prairie dogs species, and the States began to work on all the species in earnest.
2003. The BTPDCT published an addendum to the 1999 BTPD Conservation Assessment and Strategy, entitled, "A Multi-State Conservation Plan for the Black-tailed Prairie Dog, Cynomys ludovicianus, in the United States." The goal of the national, and
associated State management plans, was to remove enough threats to the BTPD that long-term conservation of the species will be assured through State management.
2004. The BTPD was removed from the ESA candidate list. However, pending litigation for the all prairie dog species stills occurs today.
2006. Establishment of the WAFWA Memorandum of Understanding for the Conservation and Management of Species of Conservation Concern Associated with Prairie Ecosystems (MOU) and WAFWA completed an assessment for the WTPD and GPD along with development of a companion conservation strategy for both species.
---
Prairie Dog Conservation Team
By developing partnerships, identifying priorities, and implementing conservation actions simultaneously across the landscape for habitats and wildlife, WAFWA and their partners believe they will have a much better chance of maintaining grassland ecosystems. Conservation measures from this grant will be delivered through the various WAFWA work groups and the partnerships they have established with U.S. Fish and Wildlife Service (USFWS), U.S. Forest Service, Bureau of Land Management, National Park Service, USDA Wildlife Service, nongovernmental entities, and private landowners at the county and local level.
---