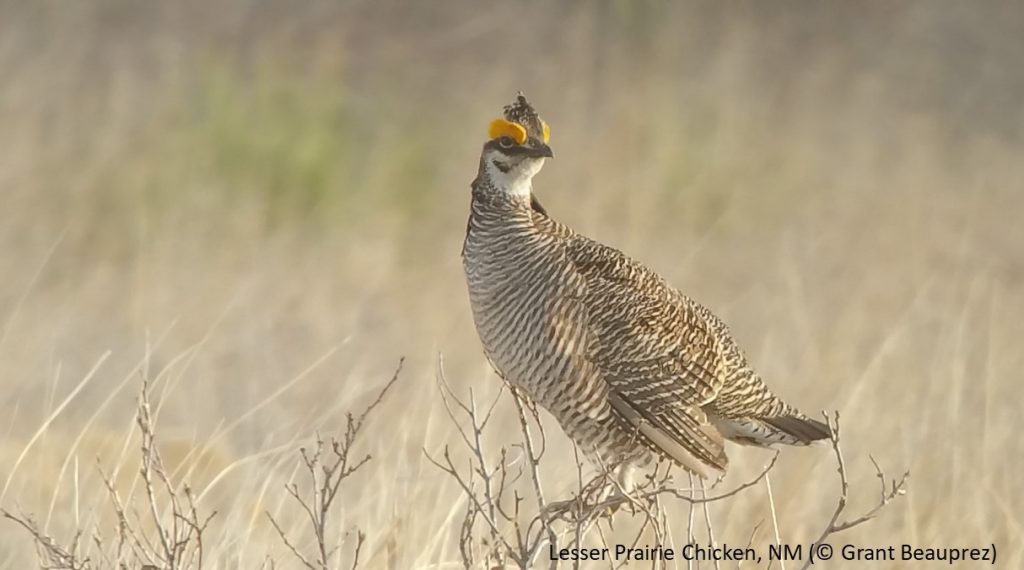 WESTERN GRASSLAND SPECIES:
Lesser Prairie-Chicken (Tympanuchus pallidicinctus)
A North American grouse species that historically occupied sand sagebrush, shinnery oak, and mixed grass vegetation types of the southern Great Plains. LPC and the habitat upon which they depend have diminished across their historical range by about 90%.
WAFWA in partnership with the states of New Mexico, Colorado, Kansas, Oklahoma and Texas have embarked on an innovative and unprecedented approach to wildlife conservation.
Lesser Prairie Chicken Range-wide Conservation Plan
The Lesser Prairie Chicken Range-wide Conservation Plan (RWP) was written by the LPC Interstate Working Group to address the species needs, establish population goals, and provide a mechanism for industry to continue operating.
This plan brings together the different voluntary conservation programs in the high plains into a common approach to provide for both minimization/mitigation of impacts and conservation of LPC habitat. The only plan of its kind endorsed by the US Fish and Wildlife Service was incorporated into the Section 4(d) Special rule at the time of listing in 2014.
The plan emphasizes tools and incentives to encourage landowners and others to voluntarily partner with agencies in LPC habitat conservation efforts, while also achieving their land use needs.
Adaptive Management
Plan Revisions
Click to view the Lesser Prairie Chicken Range-wide Conservation Plan.
---
In 2012 a unique partnership began across the lesser prairie-chicken (LPC) range to work towards avoiding, improving and funding conservation of the species and its habitats.
The LPC Interstate Working Group was formed by WAFWA, the State Wildlife Directors of the five states that are home to the Lesser Prairie Chicken and its habitats, the industry (oil, gas, wind, electricity and telecommunications), and by private landowners; farmers and ranchers who live and work within lesser prairie-chicken habitat.
The USDA's Natural Resource Conservation Service (NRCS) and Farm Service Agency (FSA) as well as non-governmental conservation organizations like Pheasants Forever and The Nature Conservancy have joined the partnership to work towards avoiding, improving and funding conservation of LPC and its habitats.
Learn more about the LPC Initiative Council (READ HERE)
---
Annual Progress Reports
The following documents represent the annual progress achieved across all nine elements of the LPC conservation strategy.
---
Range-wide Aerial Surveys
Range-wide Population Size of the Lesser Prairie Chicken: 2012 to 2020
Lesser prairie-chickens breed in relatively open areas (e.g., low visual obstruction and low horizontal cover) of grasslands where males congregate to perform a courtship dance. This area is known as a lek. After mating, most females will nest within 3.2 km (2 miles) of the lek site. Due to this high lek affinity, managers monitor the abundance of this life cycle component for population trends.
In 2011, the Lesser Prairie-Chicken Interstate Working Group, representing the state fish and wildlife agencies in Colorado, Kansas, Oklahoma, New Mexico and Texas, developed and implemented a common range-wide survey strategy to estimate the population sizes for lesser prairie-chickens. A range-wide sampling framework and methodology was developed, for aerial surveys and ground truthing, to estimate total abundance of LPC active leks. In 2013, the state fish and wildlife agencies committed to continuing those surveys through 2021. View the 2020 Survey HERE.
View all surveys and the survey protocols below.
---
Project Clearance Surveys – Updated for the 2021 Season
Methodologies for conducting lesser prairie chicken ground-based and aerial surveys for industry project clearance, as developed under the WAFWA LPC Range-wide Conservation Plan, Appendix G: LPC Survey Protocols for Project Clearance.
---
Enrollment
---
Contacts
For companies interested in enrollment:
LPC Program Contact
Chanda Pettie
Phone: 719-207-5053
For GIS related inquiries:
WAFWA GIS Services
Chanda Pettie
Phone: 719-207-5053
For general inquiry and information:
LPC Program Director-Chair
Brad Loveless
Phone: 785-296-2788
---
Field Guides Available for Purchase!
WAFWA's Field Identification Guide is filled with 56 laminated pages of color photos, habitat indicators, characteristics and explanation of their importance. Pocket-sized for convenience, at 3″ by 5″ inches.
The field guides are $14.00 each, which includes shipping and handling. If paying by credit card, there is a 3.5% processing fee. To order, please contact the WAFWA office at 208-331-9431 or wafwa.admin@wafwa.org